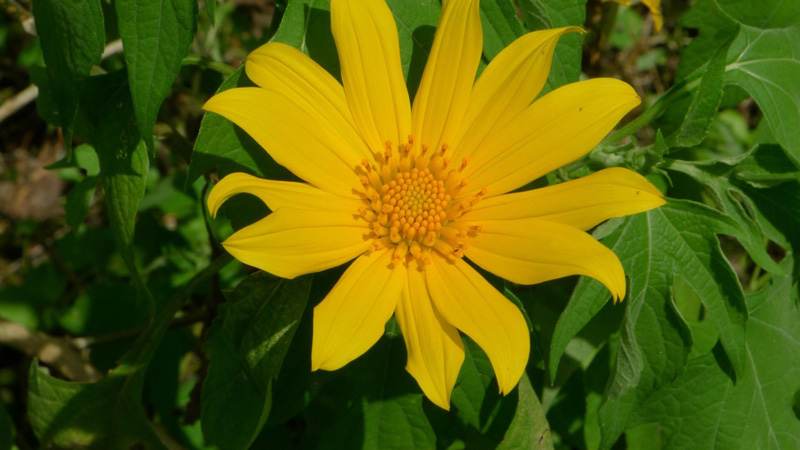 Weeds provide many functions and products. Make the most of them to improve your agricultural production as they are good for:
Mulch and compost material
Organic matter
Protecting the soil from erosion
Products, such as fibre and paper
Providing homes for pest predators and attracting pollinators
Indicating what grows well as many weeds have productive plants for relatives: If a weed grows well, its productive relative probably does too.

Tithonia diversifolia (Tree marigold or Mexican sunflower) is a great example. It is an entrenched weed in most tropical countries. However, it has many uses and should be considered a valuable part of a productive farm!
Some of Tithonia diversifolia's uses:
Biomass producer − large amounts are produced which can be used for mulch, organic matter, compost material and liquid compost material.
Soil improver − the roots loosen the soil and make it better for other crops.
Green manure crop − it can be used as a green manure crop for agricultural land and rice paddies. See Soil (CH 5).
Fertiliser − a fertiliser can be made directly from crushing the leaves and mixing them with water.
Animal food − it is great food for rabbits, and is good for part of a chicken's diet too.
Firewood − it is a good fire fuel, especially for clay and other wood-burning stoves and ovens.
Problem weed prevention − it has been used to out-compete other weeds that cause problems.
Erosion control − it covers bare soil on sloping land.
Drought tolerant − it is great for dry tropical regions.
There are many other land and water weeds − such as purslane, water hyacinth and duck weed − that can be used to fill many needs, turning problems into solutions.
For more weed information read:
Weed management section in Family gardens (CH 6)
Land and Crop Management section in Sustainable Agriculture (Ch 13)
Image: Mexican sunflower, Tithonia diversifolia is a weed of roadsides. Christmas Island, Australia, April 2011. John Tann from Sydney, Australia (Thankyou)