Ordering a printed edition
(outside of Australia)
Express your interest below
At present we are not shipping or publishing printed copies of the guidebook outside of Australia. We are working towards securing publishing partners or print on demand options in other countries to be able to offer it at the cheapest price with lowest postage costs possible. Once finalised we will let you know when it is available in your country. If you would like to express your interest in buying a copy please fill out the form below.
The Guidebook is presented as three individual volumes, each printed in black & white with colour covers and spiral bound for easy reading and use in the field. The volumes are available individually or as a set.
Volume One: Permaculture and people
Volume Two: House and garden
Volume Three: Regenerative agriculture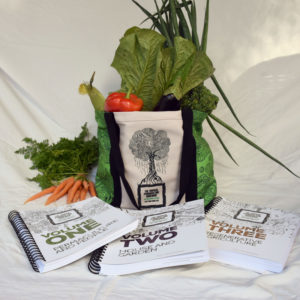 Funding the Future
100% of all profits generated from the sale of the printed English edition will go back into the project  – translating and creating new language editions of the guidebook and disseminating the guidebook across the tropical world. In the future will hope to offer printed editions in other languages as well.