Pay what you can. Fund the future.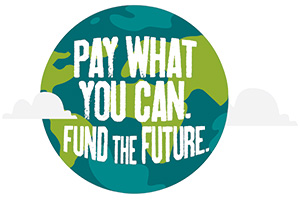 We operate using the third permaculture ethic of Fair Share and ask you to 'pay what you can' in exchange for what you download, with all money further developing this project. By investing in our guidebook, you're helping to…
Provide access for all
Fund translations
Help people to help themselves
Regenerate our earth
You can make a donation in the cart before you download the guidebook, or by clicking on one of the options below:
Donations in Australia over $2 are now tax deductible.
Individuals
Our suggested donations (for people who can pay) are:
$5 a chapter
$25 a volume
$60 for the complete 1,100+ page guidebook
Please choose to donate what you can afford and are comfortable with. For people and organisations who cannot afford to pay, please download for free, we hope this gift of knowledge is a valuable resource.
Organisations
For the complete 1,100+ page guidebook:
Smaller organisations could donate between $100 and $250
Larger organisations could donate between $250 and $500
We ask organisations that will use the guidebook for projects and training to make a larger contribution, commensurate with your capacity. For chapters we suggest between $10 and $20 per individual chapter.
All money donated goes to continuing this project.
Provide access for all
This guidebook is available at no cost for people and organisations that cannot afford to pay. We offer this service to accelerate positive change and because knowledge should be accessible for everyone, no matter their circumstance.
Fund translations
We aim to share this guidebook with people in a language they can understand. Translations to multiple national and regional tropical languages, has already commenced and will be part-funded by public investment.
Help people to help themselves
With this guidebook and the projects we work with, farmers, youth and community members gain the education and skills to improve their resilience to challenges including climate change, to create more sustainable livelihoods and their increase their capacity to live a good quality life.
Regenerate our earth
We must protect and repair our fragile environment and agricultural lands, and create societies that have a positive environmental impact. Permaculture simultaneously focuses on environmentally sustainable lifestyles, improving agricultural conditions and soil year-on-year and regenerating the surrounding natural ecosystems.
You can choose to donate any amount
Above we have listed suggested donations of $5 USD a chapter, $25 a volume or $60 for the complete guidebook. These amounts compare favourably to e-books of similar size and subject. We use US Dollars (USD) as a comparative currency only, to make it easier to work our how much people and organisations can donate.  Please pay what you are comfortable with. For organisations who will use the guidebook for programs and education we ask a larger contribution commensurate to your capacity and what the guidebook will be used for.
The difference between this donation and paying for other most other e-books is that all money donated goes back into this project – translating and reformatting new language versions, maintaining and updating the website and working with NGOs, education institutions, farmers and community groups across the tropical world to put this guidebook to practical use.
Please pay what you can for the book via the links on the shop page or the donate button.
There is also the opportunity of downloading what you want first then returning to the website and donating to our project once you've had a more in-depth read. If you choose this option please follow up with what you can afford and remember that our continued work relies on the generosity of the community we are part of.
Thank you for your support, with it you become part of the Tropical Permaculture Guidebook project. We hope the guidebook is as useful for you as it will be for all the communities that you are helping!