The guidebook in print
(ordering within Australia only)
Ordering from other countries outside of Australia will be available soon …
Express your interest here
The printed English edition is here!
The Guidebook is presented as three individual volumes, each printed in black & white with colour covers and spiral bound for easy reading and use in the field. The volumes are available individually or as a set.
Volume One: Permaculture and people
Volume Two: House and garden
Volume Three: Regenerative agriculture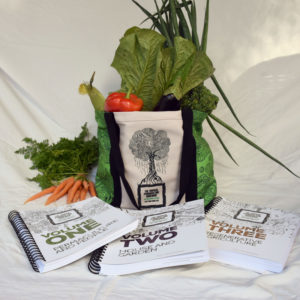 Custom designed bag
Our Australian made canvas bag is custom designed by NorthernTerritory fabric designer Bippidii Boppidii, and hand sewn by the Renegade Machinist in Melbourne. Available with either green, purple or orange trim, the bags will comfortably hold your Guidebooks or your weekly farmer's market shopping!
Pricing, ordering and shipping
Pricing: We've kept both our carbon footprint and costs lean by self-publishing the Guidebook and locally producing the custom carry bags. 100% of profits from every purchase return to the project, supporting the ongoing production of translated editions for non-English speaking communities around the world.
The Tetum language edition for Timor-Leste is currently in production, with plans to also translate into Spanish, Portuguese, French, Bahasa Indonesian, Swahili and many more languages too!
Ordering: Please fill in the form below and we'll send you  confirmation with our banking details for payment.
Shipping: Upon receipt of your payment we'll package your order and send by Australia Post within 5 working days. We'll also email you  to confirm it's on its way!
Order form
Funding the Future
100% of all profits generated from the sale of the printed English edition will go back into the project – translating and creating new language editions of the guidebook and disseminating the guidebook across the tropical world. In the future will hope to offer printed editions in other languages as well.