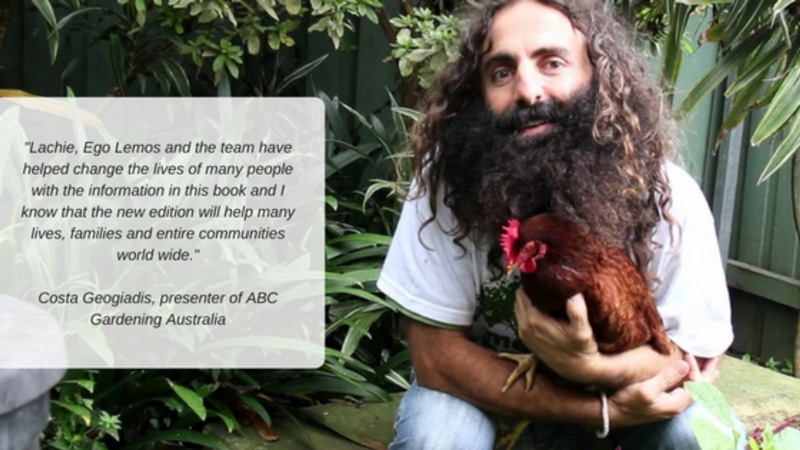 We're thrilled to have Costa Georgiadis from ABC Gardening Australia join our team of supporters of the Tropical Permaculture Guidebook.
Here's what he has to say about our project…
"Over the last 5 years I have been fortunate enough to share many visits to the Top End of Australia, and whenever I am in Darwin have been introduced to projects going on in the tropics by two people who represent community to me: Lachie Mackenzie and Emily Gray.On my last visit Lachie and Em told me about this community project to re-write and upgrade the Tropical Permaculture Guidebook.
When I first saw the book I was engaged by its clarity and quantity of information, the drawings and illustrations telling a thousand words and concepts. To the people that it was created to serve, the images are the communication and I felt like I had learnt so much just by flicking through the book briefly. It is for the subsistence farmers that it was originally written.
Like any manuscript, there comes a time when additional information, and even ommissions can be included to improve its relevance and prepare it to engage with a new audinece in a new period of time. So this upgrade is all about fine tuning the book with some new and even improved techniques to build food security, environmental health and community resilience.
The book has relevance even to those not in the tropics yet capable of applying some of the techniques to grow plants from the tropical part of the planet in their own micro-climates. I know that I have so much to learn about the tropical plant planet, which from my home in the more temperate south sometimes seems like a world away.
Lachie, Ego Lemos and the team have helped change the lives of many people with the information in this book and I know that the new edition will help many lives, families and entire communities world wide.It is a pleasure to know that there are people like this working on the big picture for so many people.They inspire me and fuel me to do what I do even better armed with the information they share so openly.
Feeding the seed of information accessibility… indeed they are".